The Oblongs
Animasyon, Komedi | 22 dk.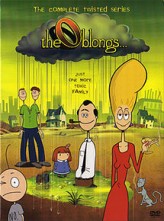 The Oblongs Film Konusu
The Oblongs (stylized as the Oblongs... in the opening credits) is an American animated television program aimed at teenagers and adults. It is loosely based on a series of characters introduced in creator Angus Oblong's picture book entitled Creepy Susie and 13 Other Tragic Tales for Troubled Children. The show was produced by Jobsite Productions and Mohawk Productions in association with Warner Bros. Television, and the theme song for the show was composed and performed by They Might Be Giants. The Oblongs premiered on April 1, 2001, and ended on November 10, 2002, with a total of thirteen episodes. Although, Angus Oblong announced new episodes of The Oblongs will return to Cartoon Network's late night programming block, Adult Swim, no other information has been revealed. The first thirteen episodes were released on DVD on October 4, 2005.[2] Currently reruns of the original episodes periodically air on Adult Swim.
Film Resimleri
Yorumlar