Uchû Senshi Baldios (Uchû Senshi Baldios / Space Warriors Baldios / Revenge Of The Space Warriors)
Animasyon, Bilim Kurgu, Aksiyon | 117 dk.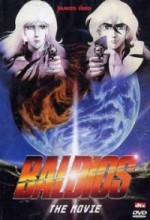 Uchû Senshi Baldios Film Konusu
Uzak bir gelecek ve başka bir dünya olan S-1'de kirlilik büyük bir sorun halini almış ve bilim adamları gezegeni temizlemek adına daha yeni bir çözüm bulmuşken askeri bir fanatik Zeo Gattler, bu çalışmalara zarar vermiştir. Bilim adamının oğlu Marin, kaçmayı başarır ve zamanda yaptığı atlayış sonrası kendini 2100'lü yılların dünyasında bulur. Bu arada Gattler'in Aldebaron güçleri Mars'taki koloniyi yok eder. Marin ise kendini askeri bir organizasyonun içinde bulacaktır. Blue Fixer kendisini Baldios adındaki robot haline dönüştürebilen gemidir. Marin ve Blue Fixer takımı, dünyayı yeni evleri haline getirmek ve Gattler'a karşı mücadele etmek için bir araya gelirler.
Yorumlar